Shabby chic jewelry organizer DIY
My dear friend, Sophia, complained to me that her fine jewelry chains tangled in a big box, and a million little boxes do not fit her dresser drawers. Besides, she forgets about her jewelry and wears any pair of earrings day after day. She browsed the internet for ideas, told me about her favorite jewelry storing solution and asked me to make this amazing thing.

So… here it is! Shabby chic wall-hanged jewelry organizer for Sophia!
First of all, I buy simple wooden board and found three unfinished wooden frames from IKEA store in my work-room. Here are my general instructions how to make the organizer.
Prime and paint board and frames with white acrylic paint.
Abrade all edges with sanding paper.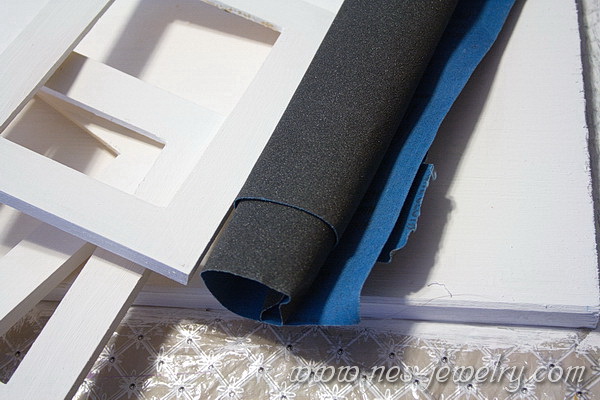 For the next few steps you can unleash the imagination! You may use textile, lace, craft paper or… nothing for decorate the organizer. I took some pieces of fabric with cute flower embroidery and cut four rectangles with long sides equal in length to long sides of the frame and two rectangles with long sides equal in length to short sides of the frame.
Carefully spread white glue on the long (or short) side of frame, on front and sides only!
Lay a fabric rectangle on glued surface and firmly press
Overturn the frame and glue the textile inside…
… and outside the frame
I decorated in such a way long sides of two frames and short sides or the third frame.
Two additional rectangles of fabric I glued right on the board
Cut seven pieces of embroider lace ribbon: three with length equal to long sides of the frame, and four with length equal to short sides.
Glue the ribbon ends on the backsides of two frames
Then glue the frames on the board
Hammer small nails along the upper side of your organizer
And add the row of nails along the downside
Paint the nails with white acrylic paint
The organizer is ready!
Here I tried it with my everyday jewelry
Long earrings and brooches may be hanged using the lace holes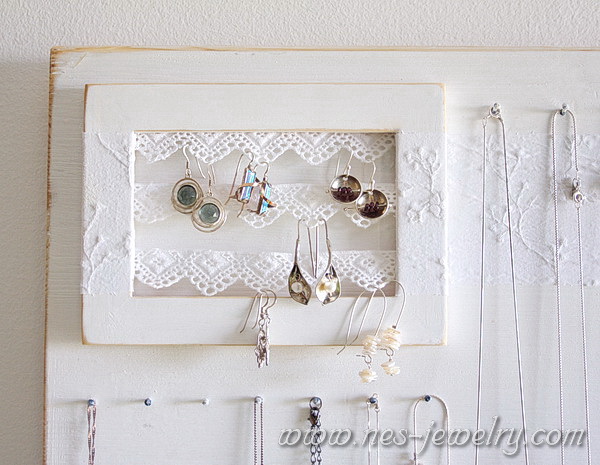 You can place bracelets on the lower row of nails
The third frame I used just as photo frame, I placed my daughter's photo in! Surely, Sophia will prefer a photo of her baby-girl.
If you want to have a place for things that don't hang right on such organizer, you can use any wooden tray instead of board. The sides of tray provide place for sitting little boxes for rings, pendants, studs or scarf rings.